Install/uninstall issues
I recently upgraded to ecart6 however now when I open an older site with ecarts created by earlier versions I have issues. Whenever I try to open the eCartXX_PHP.php file or any other file related to eCart, Dreamweaver hangs up. I get "Not Responding" and a spinning cursor. I'm sure one of the scripts in the upgrade is not completing. (product already activated when the hang up occurs).

I decided to uninstall the upgrade, however this is a very dirty uninstall. I get error messages every time Dreamweaver starts. See attachments.

Can't go forward and can't go backward. Very frustrated and not liking Webassist very much right now.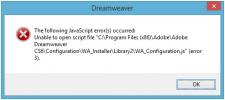 Sign in to reply to this post