Installing CSS Form Builder 2
I have tried and tried to get this extension to work correctly but to no avail.
When I open Dreamweaver I am advised that I installed Form Builder 2 when another copy was already installed. Untrue - I uninstalled Form Builder 2, HTML Editor and Theme it BEFORE I re-installed it. (see attachment Capture-Error)

Having re-installed Form Builder I installed both HTML Editor and Theme it.
On the index.php page, which does not have a form atatched to it, both HTML Editor AND Theme it open perfectly, although I haven't tried to use them on this page. (see attachments Capture-Index-HTML Editor and Capture-Index-Theme-it)

However when I open the contactus.php page and try the other extensions the HTML Editor
opens without error but the Theme it extension shows an error upon opening. (See attachments Capture-Contact us -HTML Editor, Capture-Contact us - Theme-it and Capture)

Would a technician from Web Assist please look into this matter as a matter of urgency. I am getting somewhat disallusioned with Web Assist because this sort of "installation problem" is becoming far too commonplace. When customers buy an extanesion they should not be expected to have to resolve such errors themselves. I have now wated two full days trying to get this extension to work.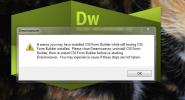 Sign in to reply to this post