I have attached what I see when I open your page.

The repeated region shows.... make sure you are in "Design" view and not "Live" view in Dreamweaver.

You can put your cursor on line 27 and maybe even type in some sample text there to help you see it and select it from design view.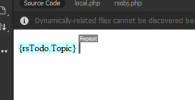 ---
Did this help? Tips are appreciated...