My KFM editor in html editor is offering http in the drop down options for linking but not https, how can I edit?
It actually offers 2 http and no option for http.
I found this but it was not much help
https://ckeditor.com/docs/ckeditor5/latest/features/link.html

I opened the config and initialise files and did not see anything there either.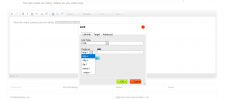 Sign in to reply to this post