Double opt in tutorial, section "Store verified status on login" is not up-to-date
I have followed the tutorial "Double opt in registration", but it does not work as intended. This is probably because I did something wrong when I tried to follow the steps in the "Store verified status on login" section. This part is not up-to-date. What is described in this part does not match what is displayed when you double-click on authenticate, see attached screenshots: img1.png, img2.png.

Then it also says that there should be two Authenticate Users. But on my page, there is only one. This is a bit confusing.

Can anyone at Webassist please update this part step by step. If it is not possible to do this in the tutorial, please tell me what to do.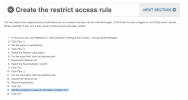 Sign in to reply to this post