Customer catalog issues
I was finally able to get the customer catalog created, but I am having a few issues. Unless the product name EXACTLY matches the product, like Concrete 40lb bag, it will not show up if you type in Concrete. Also, it created a delete button on the detail page. Not sure why. That shouldn't be in a customer catalog.
Another question is there a way to add more fields to the search page without redoing the entire search catalog? Like description, etc. and make it less exact?
http://66.39.111.101/products_search.php Also, if you type in nothing, and hit search, you get the entire catalog. Well and good, but it is producing a strange string for each page that is being added to the name.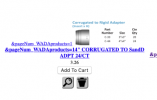 Sign in to reply to this post