Odd zeroed out quantities and incorrect totals
So we have an ecart system installed many years ago with over 5000 transactions under it's belt. Recently within the last 2 weeks, we've had two anomalies that are very concerning. We did not change anything on the system for 6 months prior to this issue, but it just popped up all of the sudden. We've had two orders where customers went through the normal checkout process, but at some point items got zeroed out, but still show in the list, and the order total doesn't make any sense. The customer reports they intended to order 1 of all of the items listed.

I've looked at everything and tested the snot out of the system, and can't get this issue to replicate no matter what I do. They've had 130 orders since without issue. I'm at a loss here. Any conceivable way you can think of that a glitch like this could arise? I'm really concerned, but given how rare it is, I'm not sure how to track it down.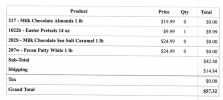 Sign in to reply to this post