Dropdown Selection set up not seeing recordsets?
Hi,

The Dynamic List/Menu is not showing defined recordsets. There are 3 record sets defined on this page.

This issue has only happened since I purchased and installed eCart last evening. Until eCart installation this issue was not showing. Tried new install of DW CC 2018, reinstalled DataBridge, MySQLi and eCart. Removed the MacFileCache data file. Tried New installation of DW with other extensions but without eCart and all worked fine again. Extensions installed with DMX Zone Extension Manager.

DW CC 2018, MAC Pro, OSX 10.10.5, PHP 5.6, MySql 5.7

Any help gratefully received.

Mike.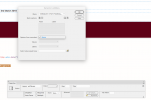 Sign in to reply to this post