my mysql statement doesnt return correct results
Hi there on my product listing page I want to show how many times a product is displayed in a category.

So I am using the following SQL statement in the rsCatalog

But the bottom 5 records should be displaying 1 (if you look at the screenshot for the catalog table you will see that the bottom 5 records only occur once. Waht could be wrong with my SQL statement.

php:
<?php
$rsProducts 

= new 

WA_MySQLi_RS

(

"rsProducts"

,

$ecartdb

,

0

);


$rsProducts

->

setQuery

(

"SELECT * FROM products"

);


$rsProducts

->

execute

();

?>
<?php
$rsCatalog 

= new 

WA_MySQLi_RS

(

"rsCatalog"

,

$ecartdb

,

1

);


$rsCatalog

->

setQuery

(

"select CatalogProductID, count(*) as assigned FROM catalog GROUP BY CatalogProductID"

);


$rsCatalog

->

execute

();


?>



here is some of the code for the loop:


php:
<?php 

if (

$rsProducts

->

TotalRows 

> 

0

) { 

// Show if mysqli recordset not empty 

?>

....

<td>

<?php 

echo(

$rsCatalog

->

getColumnVal

(

"assigned"

)); 

?>

</td>


....

                     <?php
  $rsProducts

->

moveNext

();
}


$rsProducts

->

moveFirst

(); 

//return RS to first record


?>




Chris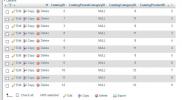 Sign in to reply to this post