can't add serial number - data assist not working
Hi, I'm on DW CS6. I just updated my Data assist, eCart and free tools apps since I hadn't do it for a while. Unfortunately data assist won't work. It keeps flashing past the serial number activation and the error (attached) comes up.

So far I've done the following several times ..
Removed all apps and only left the Webassist apps
I've removed the dat file in the user folder AppData\Roaming\Adobe\Dreamweaver CS6\en_US\Configuration
Rebooted Dreamweaver
All in different order.

eCart accepts the serial number and seems to work.

is there anything else I can try to get it working again?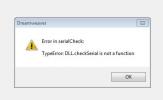 Sign in to reply to this post