eCart6 Add to Cart button to replace Add to made by Data Assist: Bindings Panel Not Showing All Fields
I'm following eCommerce Tutorial II ( http://www.webassist.com/tutorials/Add-a-shopping-cart-II-eCommerce-Series ). Found all the code (matched exactly the line numbers shown in the tutorial!) to delete the existing DataBridge-created "Add to Cart" button on the products_detail page. When I get to bindings, there's no pick for either thumbnail or shortdesc.
What am I doing wrong?

I got results.php and details.php to pull the correct info. But maybe I'm set up wrong there, too. I started with the eCommerce starter set of tables, but then found that both DataBridge and eCart expect additional fields —metakeywords, for example, are not found in the model database. I added a column for that.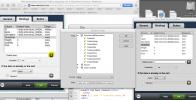 Sign in to reply to this post