Installation issues with Data Bridge - JS errors
Updating databridge to 1.1.8 I receuve the attached js errors on startup.
I have deleted the cache file before installation and start up.
There are no other extensions loaded (although ecart was installed, but I have since removed this in an effort to get DB to work)
I am using DW CC on Win7 64 bit
I have now unistalled all Web Assist extensions and the same errors are generated - I am now unable to use DW at all.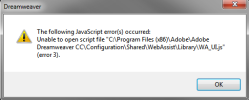 Sign in to reply to this post