Background Color of Editor
Hi Jason,

I am curious to know where can I change the background color of the editor when editing a product description text or content in the Store manager not on the website. see my attachments:(it's currently light Blue #92b5de)

The background color is one that I am using on the website and wondering if I had change it in CSS or from the Design in Store Manager.

The customer uses the same color text in parts of the website and when editing text in Store manager it washes out.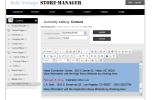 Sign in to reply to this post