Unique Product Options per Item
Ok, I am having a problem putting in my unique Product Options.

I have a test product. It has two colors: Red and Blue
Red needs size options of "Size1Red" and "Size2Red".
Blue needs size optoions of "Size1Blue" and "Size2Blue".

Note that the sizes for Red and the sizes for Blue are different, and are NOT available in the opposing colors.

When I add sizes and colors, the sizes are ALL available under both colors. I can see how I can go into the "Manage Options" spot and add or remove options from being able to be purchased, but this way seems like a huge waste of time. Those options will NEVER be possible for that color, so I should not have to put in all options for each color and then go through and remove them.

Interestingly, the colors I put in show up the way I want them in the 'Manage Options' page and all of the options show up on the 'Update Options' page, but they do not show up in the product itself (Right now, Red and the Size1Red/Size2Red show up, but not the blue options, in fact, Blue doesn't even show up as a color option for the customer viewable product).

I attached screenshots of my issue. The width x size limitations of the uploader made me have to shrink them. The one titled miniBase is a tiny version of the whole thing put together. The other two are the top and bottom halves of that same image, cut in half so that I can post them larger.

The Top half has a shot of my Update Product Page and the following Add/Edit Options Page. The Bottom half has the subsequent Manage Options Page.

Any help would be useful. I am trying to get it figured out so that I can put all of my product information into a database and upload it. I have already figured out how to do this, and it works great. I even figured out how to upload the images without having to do them individually per product in the Update Product Page. The only problem I have is that I do not want to duplicate a product that has 10 sizes of one color, 15 sizes of a another color, and 15 sizes of another color, but they are different sizes, forcing me to put in a total of 40 sizes per color even though I am only using a small portion of those sizes per color.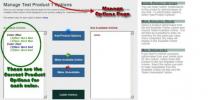 Sign in to reply to this post