Email Forgotten Password Issue
Hello Jason,

I responded to the message related to my support ticket. In the meantime, I am getting an error message when I attempt to test the password Reset function of the Email Forgotten Password Page.

The error message is: Your email address could not be found in our records. Please try again.

I wonder what could be wrong as I was able to complete registration successfully and verified that my registered details are contained in the database of the the Testing Server. Therefore, I know that the record is there.

In addition, I used the SHA1 encryption on the password fields at the point of creating the Security Pages using Security Assist Wizard. I have Security Assist Version 2.0.5.

Do I need to further manually configure the Email Encrypted Password page? As I understood from the Security Assist Documentation provided, the encryption settings are done by the Security Assist Wizard.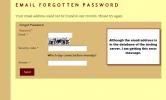 Sign in to reply to this post