Edit Delete Update icons not showing IE9
Hi,

I tested a basic DataAssist created result page (sharp theme) and it shows normal in Firefox but when i preview it in IE9 it does not show the icons, see attachment.

Is the reason found in the icons themself?

Ok here is the deal, when i choose IE9 to be the default browser in Dreamweaver and i preview the presets from within the DataAssist wizard, then it shows the icons normal. However after creating the pages and previewing from Dreamweaver it does not show in IE9 but does in Firefox.

Any idea why this is?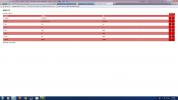 Sign in to reply to this post