Controlling the form design
On thing that going to no-table forms is much more complex css. I am having trouble controlling the preset or adjusting the post creation forms from the new Data Bridge Pages Wizard.

Can you provide any assistance generating a preset that controls the form design or how to modify the generated pages to solve the following problem.

I want to control the margin to the left of the form labels and in the case of some HTMLeditor fields, set the label to be above the editor so the editor can be the same width as the publicly viewed web page.

Here is what I get and I cannot seem to control the layout the way I could with the old DataAssist pages:




How do I move this form to the left and be able to get label "Content" above the edtor so the editor could be the fill width of this page layout (the white pace between the green border)?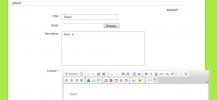 Sign in to reply to this post