DataAssist Pages Wizard Fails
I just tried using the DataAssist Pages Wizard for the first time and it choked. I was managing blog posts from my own database structure. I was creating a results page which I called index.php with search, insert, and update pages. I changed the names of those pages only by removing blog_ from the name so they would have been posts_insert.php, posts_update.php, etc. Some validation was used.

The wizard produced the following error while creating the pages.




Then it hangs before creating the search page.




In the end, index remains an empty page, post and insert have syntax errors, and the search page is not created at all.

The syntax errors are marked as being here:


<script type="text/javascript">

    [snip jQuery code]

var title_Spry = new Spry.Widget.ValidationTextField("title_Spry", "none", { maxChars:255 , validateOn:["blur"]});
var description_Spry = new Spry.Widget.ValidationTextarea("description_Spry", { maxChars:300, isRequired:true , validateOn:["blur"]});
var pubDate_Spry = new Spry.Widget.ValidationTextField("pubDate_Spry", "date",{ format:'mm/dd/yyyy' , validateOn:["blur"]});
var tags_Spry = new Spry.Widget.ValidationTextField("tags_Spry", "none", { maxChars:255, isRequired:false , validateOn:["blur"]});
var allowComment_Spry = new Spry.Widget.ValidationSelect("allowComment_Spry", { 'null', validateOn:["change"]});
var closeComment_Spry = new Spry.Widget.ValidationSelect("closeComment_Spry", { 'null', validateOn:["change"]});</script></body>
</htm>
<?php
mysql_free_result($WADAblog_posts);
<?php
mysql_free_result($WADAallowComment);
<?php
mysql_free_result($WADAcloseComment);
?>?>?>l>
The problems at the bottom are fairly obvious.

-------------------------------------

NOTE: I got it to sort of work by doing two things.

I removed most of the validation which I do not think matters except that whatever problem it had with the one spry statement is gone. I think the spry stuff is really disappointing and I'll be replacing it with a jQuery anyway.

I did not have the index.php page already created when I ran the wizard.

I think one problem is that it is having a hard time replacing a page which is already created and open in DW. The old wizard did not have the same level of problem. I also think part of the end of page PHP issues have to do with referencing more than one table in the form (in my case lookup tables for select menus).

This last piece begs a question that has always bugged me. Why do I have to have a page open to use the wizard? It creates pages anyway. Just let me specify a directory and create it if it does not exist, and generate the pages.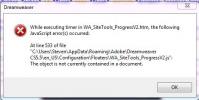 Sign in to reply to this post