Sending process stalling out
I've finally started sending out messages using powermessenger. The only problem I'm having now is that the sending process appears to be stalling out about 5-10% of the way through the mailing list. I'm sending out a message now to a list with 1700 members, and it's stuck on message one hundred.

I have no way to know whether this is a problem on my ISP's end (a problem connecting with the SMTP server - although I checked to make sure I wouldn't exceed the server's sending limits) or a problem with the PHP script. Unfortunately, there also doesn't seem to be any way to know which 100 people in the list got their message so that I can try resending to the other 1600. (I don't want to resend the same message to the first 100 the same day.)

As the screen capture shows, this is happening on every message, except for the one with 50 recipients.

Any ideas?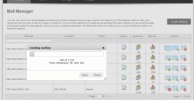 Sign in to reply to this post