PS4 Font Size Adjustment for Pricing
Hello,

When I select the option to enter a retail price and a sale price, the product boxes get dis-organized because the retail and sale price can not fit in the space provided.

How can I reduce the price font size in this area, so that the boxes dont get pushed downward (see attached jpg)

Can I use the Design Area in PS4 to reduce the font size; I am assuming this would allow both to fit in the space provided without messing the box orientation up.

thanks for the help.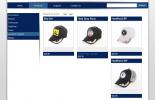 Sign in to reply to this post