No Templates
Am i missing something here?
Whenever i use the checkout wizard it says there are no templates.
There are definitely templates with editable regions. Do i have to do something to get eCart to see them or....?

(Screen shot attached)


*update - 12:31 30/08-2010

Now I've finished the front end stuff and am working on the admin pages, Data assist see's the templates.

D'oh!
I don't want to use the front end templates on the admin pages.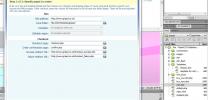 Sign in to reply to this post