Order History/ No UserID in Store Summary Database
Hi,

I'm using eCart5 with PayPal Standard, I set up the store with all files etc and it works great and have now moved on to setting up the order history BUT when I go into the eCart Store Summary in Database server behavior there is no listing to bind OrderUserID. There is two entries relating to payPal which wasn't there in ecart 4.

The mySQL does have a column for orderUserID and everything else is there which is mentioned in the guide except this one binding entry of OrderUserID

I've attached a screenshot of my bindings available.

Thanks for your assistance.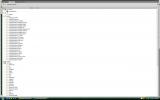 Sign in to reply to this post