Stuck on a 404 page
Okay, I am stuck again. I started all over, and I am using xampp as my testing server. At this point, I am not defining my live server yet. I want to work on figuring this out b4 uploading anything. I have been following the PowerCMS Getting Started Guide step by step. I am up to step 5, creating your page content ( I skipped step 4 since I am just on a local server).
I created an index.html landing page with a text link that takes me to the login screen. I can log in fine, according to step 5.. next I click on Insert New Content. When I do that I get a 404 error...actually when I click on any of the 4 tabs I get a 404 error. So I am assuming I messed something up in my Globals?
I built a blank php page for editing.
This is where my files are on my computer

C:/xampp/xampp/htdocs/pcms/cms100
pcms is the root folder for Dw settings

I noticed that for some reason the xampp folder is doubled for some reason

these are my globals
<?php
$WAGLOBAL_Root_URL = "http://localhost/pcms/" ; //Absolute path to your site folder.
$WAGLOBAL_Site_Name = "Content Management Area" ;

$WAGLOBAL_localRoot = "/CMS100/"; //relative path to your PowerCMS files on your local testing server.
$WAGLOBAL_remoteRoot = "/PowerCMS folder/"; //relative path to your PowerCMS files on your remote server.

//iRite Images upload settings
$WAGLOBAL_Images_Folder = "images/"; //relative path to your images folder.
$WAGLOBAL_Swf_Folder = "swf/"; //relative path to your swf folder.

// Admin Settings
$WAGLOBAL_Admin_UserName = "test" ;
$WAGLOBAL_Admin_Password = "test" ;
?>

I know I shouldn't post password/login...but this is just on my pc for learning

I will attach a screenshot of my files layout in DW

What am I doing wrong? Am I supposed to be saving my pages inside the CMS100 folder or something?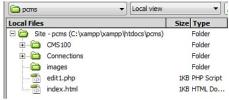 Sign in to reply to this post