How can i avoid this
hello im trying to create a custom layout but im having a terrible time at it, if i use the standard ones no problem but the designers gave me a piece that seems to be complicated with css sculpture any help on how i can prevent overlapping extra content divs over a full width footer. example bellow.

while testing with the css the first picture attached if i add more content it overlaps beneath the footer also i attached a picture of how it should look

it should be

full width header
wraping div
navigation div
content div

left div
realcontent div


content 2 div

left div
secondcontent div


full width footer
now what i notice if the content div ---> left div has to much content it overlaps the content 2 div displays over it.
second if any of the divs inside content 2 dive have a lot of content the overlap beneath the footer.
my question is how can i get the footer to display always at the bottom of the page and avoid the overlapping i try already positioning with relative with no luck also added placing heights but if the content is bigger than the hight it screws up, and all the content is dynamic maby its less or more each month that's the problem.
im frustrated have 3 days changing the divs all ways posible but i have no idea what im missing.
PD using cs4 and super suite wich only lets me have css sculpture 2 last version updated this week.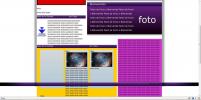 Sign in to reply to this post