Create Security Pages not Working
I must be missing something obvious, but I've run the Security Assist pages several times with the same results.

Forms show up without fields:


Registration
Required *
Email: *
]]>
Password: *
]]>

etc.

Image attached

Same results on local testing server and live site.

registration.php

Using Dreamweaver CS6 - is security assist from the current SS compatible?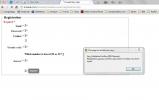 Sign in to reply to this post