DataAssist wizzard pages not generating correctly.
I am having some issues with DataAssist wizzard pages being generated completely.

I have previously made the list, insert and update pages for a table, but I wanted to make some changes. I deleted the pages created the first go around, restart the wizzard, choose my preset (which I made previously), make some changes and click finish.

I get "pagename" has been modified outside of dreamweaver, would you like to reload it pop-up box. I choose yes and there is no contend in the <body> for those pages.

Anyone else seen this yet?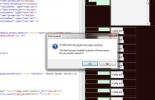 Sign in to reply to this post