How to create different mailing groups & license question
I have not yet purchased PM so this may be obvious if I had it in front of me, but can you tell me how to create various groups that users are assigned to so that your mailing can target that group only? The video indicated this could be done, but I didn't see anything in the registration process where you created groups they could choose to be a part of or how you could assign them to various groups after the fact.

I might be missing something too because when I try to view powermessenger/ I am unable to view the whole page for some reason. I've attached a screen shot of what I get - it's like a cut off frame.

In addition to wondering how you create various groups and assign them to the people who register I'm also wondering if PM is for one site only or if you can use it on more than one site.

Thank you.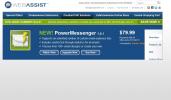 Sign in to reply to this post